ACTIVE AIM OF e-LEARNING CONSORTIUM JAPAN
ACTIVE AIM OF e-LEARNING CONSORTIUM JAPAN
The e-Learning is growing as an important strategy to improve productivity in enterprise offices and as an education technique to fulfill educational curriculum in higher education and to extend completely new activity field such as introduction of teaching methods. Furthermore, individuals are also possible to improve their work skills and to advance study of hobby fields with use of the e-Learning at their desired time by personal computer at their homes. Under such background, the Non Profit Organization [e-Learning Consortium Japan] (hereafter "eLC") was established in October 2001, in order to continuously promote an aggressive support activity for users and e-Learning enterprisers with powers of industry, government and school concentrated.
We are thinking to be an importance to build the relationship of which many personals relating to the e-Learning should participate in this activity beyond organization frames of enterprise, school, government authority and others, and cooperate each other.
Major eLC activities are three as follows:
Acquisition, investigation, research and supply of e-Learning related information
Enlightenment activity to users and enterprisers of e-Learning, development of educational program and educational actual state
Study of standardization technology regarding e-Learning system and contents and standardization promotion
History
November 1996
Established TBT Consortium (former body)
---
April 2001
Established e-Learning Consortium Japan
---
August 2001
Validated by Tokyo Metro. as Non Profit Organization
---
October 2001
Established Non Profit Organization e-Learning Consortium Japan
MAJOR ACTIVITY RESULTS AND PRODUCTS
Session of [e-Learning Conference] (former name: [e-Learning Forum])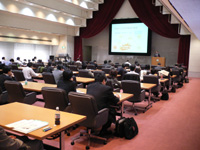 In order to further accelerate propagation of study style of the e-Learning, forum of exclusive e- learning to communize knowledge and know-how has been held
since 1997.
The current sessions are twice of July and December a year.
Japanese version translation of [SCORM] standard]
The specifications of [SCORM Ver. 1.2] and [SCORM Ver. 1.3] were translated and have been opened to the public by Web site.
Execution of validation test of product for SCORM
The SCORM validation of the LMS (Learning Management system) product was started from 2002.
The SCORM assessor qualification validation system and validation for the contents product were started from 2004.
(The SCORM assessor assumes responsibility for the SCORM adaptability of the contents developed by each enterprise, and the right to apply the contents conformed to the SCORM has been given.
| Validation logo | Validation certificate |
| --- | --- |
| | |
Execution of e-Learning related seminar and technical institute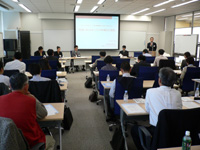 Seminar is periodically held, and latest information for the e-Learning and the technical information for practical e-Learning have been supplied.
Session of [Monthly conference]
The [Monthly conference] for all members is held in the third Thursday of each month. Seven committees are alternatively in charge in monthly basis as place of activity output. This is approximate two hour program that consists of [Member presentation], etc. to promote introduction of e-Leaning trend and mutual cooperation of members.
Introduction of publications
First manual for instructional design
(published in 2003)
Introduction guide of e-Learning
(published in 2004)
Advanced instructional design e-Learning fundamental
(published in 2004)
Member Merit
The eLC intention is to manage that members are able to meet many personnel related to the e-Learning by participation, to able to obtain many fruitful information and to able to assist formation of a line of personal contacts and human resource upbringing.
Furthermore, the eLC will support [Upbringing of e-Learning manager and engineer and supply of application information] and [Education and information supply to personnel of the e-Learning related organizations] that are extremely important elements to propagate and to promote the e-Learning. Due to this, the eLC will intensely request to participate e-Learning suppliers, e-Learning application enterprises, schools, government authorities and individuals, and will vigorously contribute for propagation of the e-Learning in Japan.
The e-Learning consortium Japan will constitute suitable committee activities for the purposes, and will develop the propagation activity through flexibly organized committee activity by grasping needs of users and e-Learning enterprisers.
The eLC looks forward to participation of all of you. Shall we extend the Japanese e-Learning culture?
Member (For enterprise, school, body and individual who involve e-Learning and related service business): Various supports for business development are served.
Candidate member (For e-Learning users): Various information regarding e-Learning application is supplied.
Promotion of cooperation and cooperative work
Promotion support of business between members
In order to promote business between members, the secretariat timely transmits product information, seminar session information, etc. to other members via [eLC secretariat correspondence], etc.
Information exchange and opportunity of cooperation and cooperative work
It is possible to create parties who are interested in the e-Learning, and to form profitable business of a line of personal contacts for cooperation and cooperative work.
eLC Web site as e-Learning portal
Information transmission by Web site Web site of eLC highly interested can be used as the Japanese e-Learning portal site.
Publication to member list
This is liked to each member Web site.
Transmission of member information
Promoted seminar and study meeting information are listed.
Transmission of new product and service information
Registration to product retrieval site
Listing of application case
Banner advertisement (paid)
Collection and transmission of latest information related to e-Learning
Latest and maximal information related to the e-Learning can be obtained as daily basis.
Advanced introduction case, product and service information can be quickly obtained and used.
Plentiful information related SCORM, specification and interoperability can be collected.
E-Learning related information from [eLC secretariat correspondence] can be distributed.
An opportunity of [User case] addressing can be given by the [e-Learning Conference].
Others
Display fee discount of eLC seminar
Participation fee discount of eLC sponsored seminar
Opportunity of [User case] addressing at support exhibition hall
ACTIVE AIM OF e-LEARNING CONSORTIUM JAPAN

DLCメールマガジン購読者募集中
デジタルラーニング・コンソーシアムでは、eラーニングを含むデジタルラーニングに関するイベント、セミナー、技術情報などをメールマガジン(無料)で配信しております。メールアドレスを記入して『登録』ボタンを押してください。